I don't think I've been updating my blog frequently enough. Oops. First and foremost, I've finished my exams! (OK, it seems like old news because I've been a little busy with holiday stuff)
And, I had a class trip to Penang Island, which is famous for its delicious food. Unfortunately, this is not a food post.
Escape theme park in Teluk Bahang, Penang opened to public on Nov 2012 and is a place where kids and adults alike could connect to nature and escape from their work and studies for a while.
We were pretty much excited on the way to the Escape theme park. The view from the bus window was just plain awesome and beautiful, especially near the Ferringhi beach.
Located at Teluk Bahang, it was quite far from our rented villa at Gelugor. It took us about an hour or so and of course, we had to wake up early in the morning.
*groans*
Junior Kid (4-12 years) = 45.00
Big Kid (13-60 years) = 60.00
Super Kid (60 years and above) = 45.00
** children under the age of 4 get free admission and also if you are a MyKad holder and you're above 60 years old, you also get free admission.
For groups over 20 pax, you get a special price too.
There are paid lockers near the toilets but if you have a lot of stuff, you can rent a cabana to put your things. The cabanas are under key and lock. The price depends on the size of the rented cabana.
There are trees all over the place so you can be certain that there are lots of shady areas to rest under the scorching sun.
Found this is the toilet cubicle.
Of course, it is advised that you shouldn't use your phones to go online or stuff in the park. The main point is to enjoy the place, right?
The first game we tried was the
Jungle Swinger
. Most activities there have a weight limit (a majority have a limit of 120kg, and there are also certain activities for kids).
Spent most of the time there with
Jean
and Jai Chi. Love Jean's blue dip dye hair so darn much (she'll get narcissistic when she sees this, mind you).
Back to the Jungle Swinger, all you have to do is grab hold of the rope and jump down the ramp. It is not very high but you'll still feel the adrenaline pumping when you take the first leap. The only thing is that the rope is a little sweaty from the previous players' palms.
.-.
And the
Flying Lemur
is a must-try! It's actually a flying fox which is 139m long and about 30m above ground. Flying over treetops is, well, awesome! Especially when you get to feel a gentle breeze when you zip through the 139m line.
*le random weird me after coming back from the opposite side*
And yes, I forgotten to mention that you have to go to-and-fro the zip-line. There are 4 zip-lines in total. Two back and two forth? I didn't really get into the matter.
If you are good at climbing, you could attempt to climb the trees at
Go Ape
.
-pic from Escape website-
You could also try the
Coco Climb
, which doesn't include the foot-stops and rewards you with a coconut when you get to the top of the tree and ring the bell.
If you are up for the challenge, you could go for
Atan's Leap
that has two jump boards (another lower jump board is available at certain hours). It's not exactly free-falling as you are connected to the harness that ensures you a slower fall.
I didn't go on Atan's Leap but my friends who did even complained that it wasn't high enough!
The climb up is more tiresome in my opinion.
Escape theme park has helpful and nice staff to help around. They are really friendly.
:D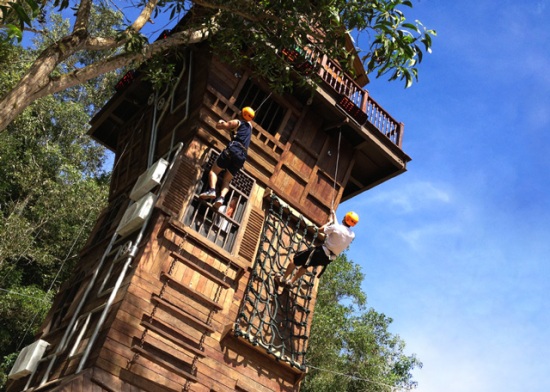 -pic Googled-
Gecko Tower
is where you get to challenge your friends or family to the top of the tower. You have to press the stopper on the top of the tower after climbing the wall of the tower. Each wall can accommodate two people but each one of them has a different difficulty level.
Unfortunately, I got one of the difficult ones. ugh.
*randomness*
-pic from Escape website-
The
Tubby Racer
is also another recommended game. It is tiring work, dragging the tubby tube up the stairs and to the slide. Other than that, I couldn't complain much. Sliding down was very, very exhilarating. You could tie several tubby tubes together too! (I thought that you could only tie two. darnit)
And, uhm, chickens..?
Please do not freak out when you see an employee weeding or trimming grass and plants on top of roofs.
Last of all, the activity you must not miss -
Monkey Business
!
There are 3 levels in total, and there are a few paths for you to choose on each level. Level 1 is the easiest (and closest to the ground) and Level 3 is the hardest among them all (and highest up, of course).
There are a lot of challenges that takes good balancing and handwork + footwork. Well, at least you can be assured that you won't fall flat on the ground as security measures are taken. If you are stuck, you could ask the staff on duty for help. For some people, they'll appreciate the ground more once they're done with Monkey Business.
As you may notice, I took a few photos from the Escape theme park website or from Google. Carrying a DSLR while playing is a little inconvenient but I couldn't pass up the chance for photographing so I asked some friends to help me take care of it while I was playing
*huge shoutout to friends*
.
828 Jalan Teluk Bahang
11050 Penang
Malaysia  
Tel:+604-8811 106
Fax:+604-8813 106 
For more details on activities or e-tickets, go to Escape theme park's
website
:D